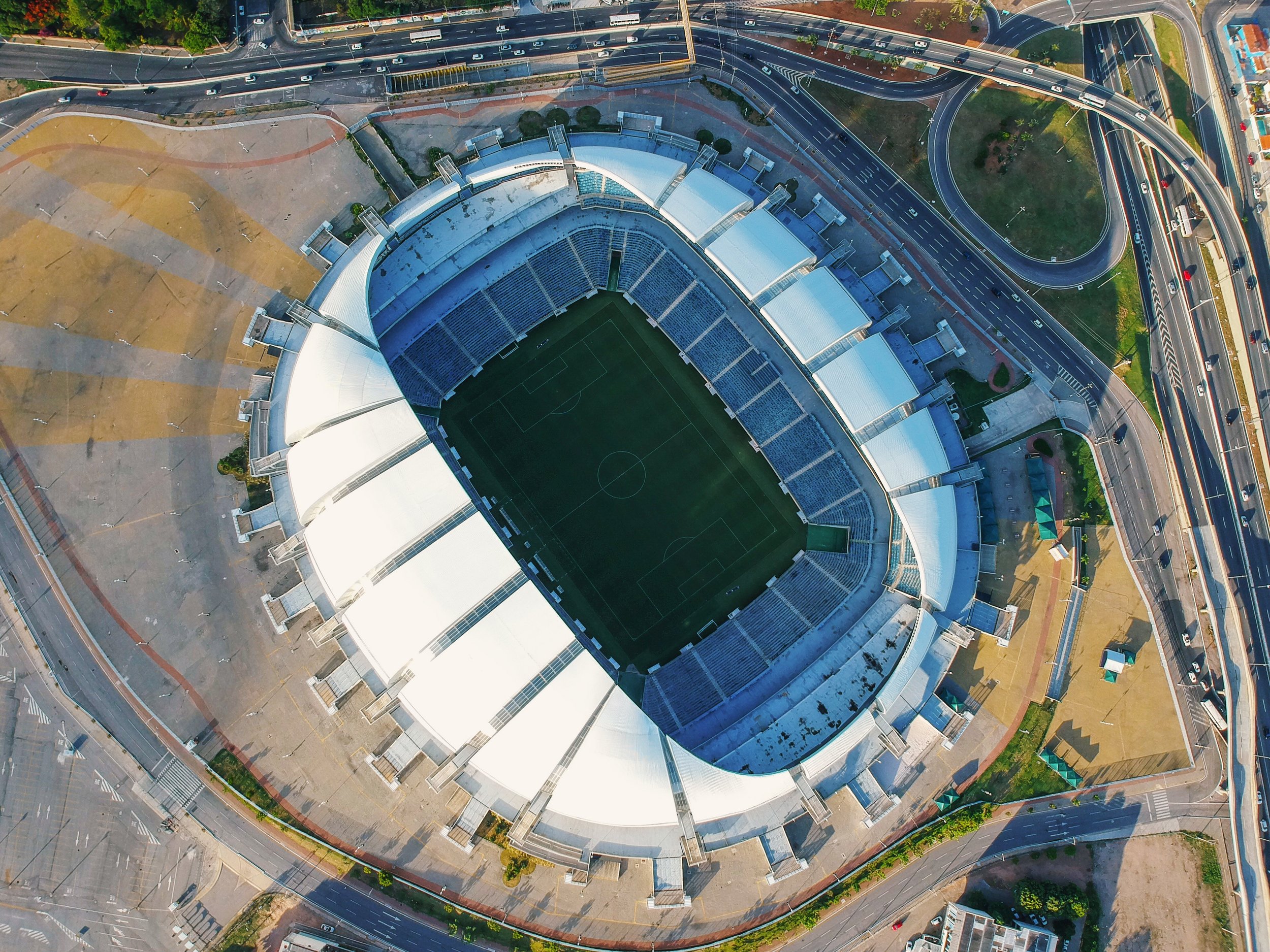 The traditional world of information technology and the pace and diversity within, can be overwhelming for some; add to this the probable requirements for an exhaustive range of technology installations from digital broadcasting, media production and conferencing facilities, telecommunications, mobile and private radio communications, converged networking through to point of sale, smart card access control, high definition digital signage and advertising facilities, building management systems, IP-CCTV, lighting control, alarm monitoring and PA/VA and it provides an idea of what is incorporated within a modern-day sports and leisure environment.
Through a strategic design process, our technology objectives are to design a reliable, scalable, flexible, future proofed and intelligent infrastructure which provides a basis for streamlining the operational management of events and all commercial activity.
Working closely with our Clients we develop a technology and digital systems integration model which not only enables an enhanced visitor experience, but also allows sponsors, commercial partners, fans, visitors and corporate guests to make the most of the commercial opportunities available within a diverse multi-functional environment.
Stadia technology - the business case
A proactive knowledge led approach to stadia technology is important to achieve commercial success
An international sporting event such as the world cup or Olympic Games provides the host nation with significant opportunities for revenue creation and enhancement of the viewing experience. The blueprint of the technology profile should be assembled with the Stadia business case. Maximisation of income streams will be critically dependant on planned media engagement and controlled authorised access rights.
The technology model must be an integral part of the strategic business plan to ensure:
Reliability, Scalability and flexibility

Seamless Visitor and Media Communications

Design and implementation consistency

A retained knowledge base
An independent Knowledge based approach will harness technology direct from key suppliers, providing agreed performance standards whilst avoiding unnecessary on costs.
Today, technology plays a critical role in the development of stadia by supporting the business objectives for ongoing commercial success and sustainability. Whether it is an individual stadium or group of stadiums associated to hosting an international event, it is essential that the technology implementation is considered with as much importance as the architectural and building services designs. This is to achieve overall design harmony in-line with the business objectives
The technology installation must assist the venue owner, rights holder and operator to:
Increase revenue return by enhancing brand awareness, advertising, ticketing, merchandising and hospitality sales

Provide the flexibility to host multiple event types where required – maximising the number of event days and ensuring regular use

Create an environment which offers the highest standards of personal safety, security and convenience
Improve the relationship with the fan and encourage auditable collaboration between fans

Provide comprehensive facilities for radio, TV and online broadcasting

Minimise operational costs and capital expenditure

Maximise operational efficiency - streamline match day and non match day operations, improving staff productivity and their responsiveness to fans and visitors
With the early appointment of a strategic technology design team and their established technology model, the latest hi-tech solutions and implementation methods can deliver - increased revenue generation, a reduced cost of ownership, an enhanced fan experience and effective support for legacy operation and sustainability
From bespoke audio and video conferencing facilities, luxury hospitality suites and merchandising through to advertising, ticketing, customer relationship management and broadcasting. It is important that the revenue generating technology platforms provide every opportunity for effective commerce and support all possible sales channels, marketing and other revenue generation initiatives. Key to this success is ensuring the implementation of solid technology building blocks which underpin the overlay of the revenue platforms.
The Technology Design Model
To achieve design consistency, operational efficiency, ease of ongoing support and reduced cost of ownership, it is important to establish a design model which will:
Scale according to capacity to suit the operational requirements across multiple venues

Provide long term flexibility, scalability and future-proofing qualities – supporting the quick deployment of new services and applications as they emerge

Minimise the carbon footprint of the operation by incorporating energy efficient products, design concepts and operating procedures
Provide suitable performance criteria to serve a fully converged voice, data, audio and video network infrastructure with the required quality of service for specific applications during peak times

Allow the ease of multiple venue interoperability and collaboration

Incorporate industry standard products and solutions that are easily maintained and managed
Provides a high level of network security for staff and visitors

Effectively serve all business activity supporting the expected returns on investment

Fulfill desires for legacy operation and where applicable, compliment required modularity design concepts which are being adopted by leading architectural practices
Traditionally, building systems such as access control, CCTV, BMS, power management and alarm monitoring would operate in a relatively autonomous fashion, whereby they would not be integrated as part of the common network infrastructure. Integrating these systems onto a common infrastructure can yield a number of benefits due to the efficient use of ICT resources. These include ease of infrastructure manageability, reduced cost of ownership and capital expenditure.
The technology market will continue to see a drive towards this level of integration as manufacturers continue to develop network based products, and ICT/estate managers look at potential ways of reducing ongoing cost of ownership. As you would expect, this places a much higher level of reliance on the common network infrastructure from a performance and resilience point of view. With this in mind, it is very important that the appropriate products and suppliers are selected and the correct networking configurations deployed.
Safety and Security
A co-ordinated approach to fan and visitor safety and security is achievable through converged technology. Stadium ingress utilising intelligent ticketing reduces queuing time, prevents fraudulent ticket use and enhances security, assisting police in the prevention of terrorism and hooliganism. Additional measures such as high definition video surveillance; incorporating analytical software enables proactive intervention avoiding a situation before it has started. Utilising these technologies and others improves crowd control and monitoring capabilities which ensures a safer and more secure environment for fans to enjoy the event.
Broadcasting Rights
With the huge revenue attached to televising events, a critical part of a stadium's operation is the ability to effectively accommodate broadcaster presence while maintaining operational convenience for the broadcaster and operator. From flexible camera positions and overlay facilities for larger events to media production and digital video transmission throughout the premises. The stadium must provide flexibility and performance to ease event rigging, de-rigging and provide an effective means for international broadcast transmission.
Global Collaboration – The Connected Community
Having the facility for close collaboration with the fan, and between fans, prior to and during the event is becoming the expectation from today's fan. Email, text messaging, web blogs or portals are means by which this can be achieved wherever they are in the world. Close collaboration encourages a feeling of belonging and being in touch with a community who share a common passion. Having an infrastructure that supports this level of communication to create a unique, personalised and enhanced channel of communication will increase loyalty, which in turn will lead to revenue income.
Theme for Sustainability – Initial to Long Term Use
Important sustainability issues have to be addressed; from minimising the stadium's carbon footprint to supporting the desire for legacy operation and sustaining business growth. The sustainable theme has to be reflected throughout the technology model. From carefully selected low energy products, consolidation, virtualisation and greener installation methods, combined with energy management applications and business analysis tools to reduce waste and consumption - there are many elements that can be included within the technology design to achieve the long term goals of sustainability.
Why IPT Design LLC ✅
As an award winning practice, IPT Design LLC has the knowledge, experience and capability to develop a technology model that not only enables an enhanced visitor experience, but also allows sponsors, commercial partners, fans, visitors and corporate guests to make the most of the commercial opportunities available within a diverse multi-functional Stadia environment.
Stadia & Leisure Projects
Below is a selection of our Stadia & Leisure projects. To see more click here